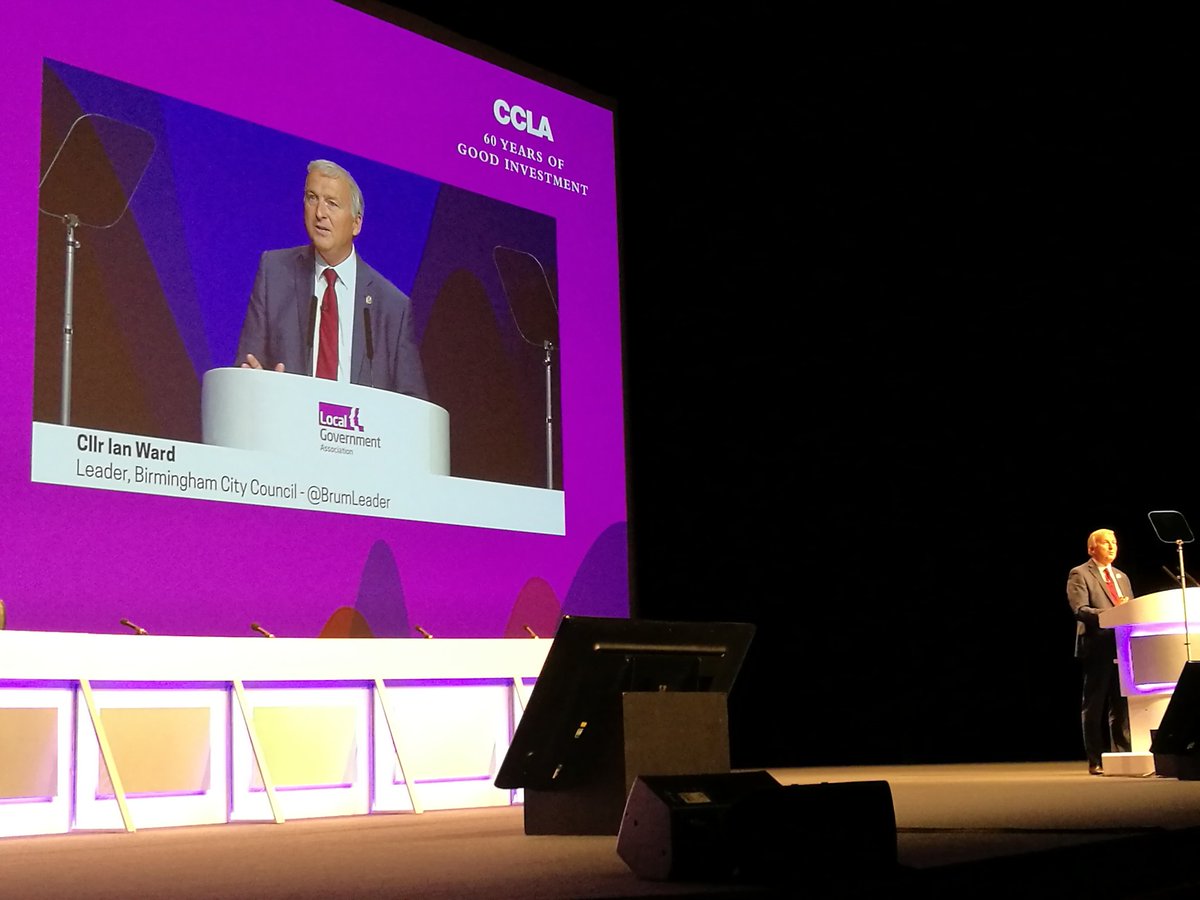 My speech welcoming the 2018 LGA Conference to Birmingham.
May I offer you, the Secretary of State and all our delegates a formal welcome to Birmingham – one of Europe's youngest cities and, of course, home to the UK's largest local authority.
I hope the next few days in our city prove to be enjoyable, enlightening and fruitful as many of the leading figures in local government come together to inspire and be inspired.
You come to Birmingham at an exciting time – we've even given you Blue Skies… but more of that later.
This young, diverse, creative city is going through a dramatic period of transformation at the moment.
In fact you could argue that we've entered a golden decade that will define Birmingham and the wider region for generations to come.
We're building homes, attracting investment, creating jobs, building the infrastructure for HS2 and preparing to host the 2022 Commonwealth Games.
Birmingham is a city that is buzzing with the noise of regeneration and we have many reasons for optimism.
But of course like every town, city and county represented here this week, we have our challenges.
And sadly, at a time of continued cuts, those challenges are what get most of the attention, as the coverage of local government focusses on what we are no longer able to do.
The cuts and the bad news get the headlines, while the good work goes largely ignored.
This is not a glamourous sector, but councils up and down the country are providing essential support and services.
We're the safety net; the very frontline of the welfare state and we're currently needed more than ever before by the millions of people we serve.
Local government might not tug at the heartstrings like the NHS, the police or the fire service, but we are no less important.
And one thing that everyone in this room knows is that local government matters.
Of course, the to-do list for councils across the country is a daunting one, but I know that there are dedicated teams of committed professionals from councils up and down the country that are rising to the challenge on a daily basis.
Local government is blessed with creative, resourceful and tireless officers and councillors who, just like their NHS counterparts, are there to support people from the cradle to the grave.
Over the last eight years, we have continued to deliver vital services and support in the face of unprecedented cuts – in Birmingham for example our budget has been slashed by over £650 million a year as a result of Government grant cuts and rising costs.
That same period has seen demand for many of our services grow. The housing crisis, bridging the skills gap, ever-rising demands for adult social care and preparing for a post-Brexit economy are just a few of the challenges faced by our sector.
The Secretary of State will hear a lot about those challenges at this conference, but he will also hear, and hopefully acknowledge, how this sector is getting on with the job and working harder than ever to improve outcomes for the people who rely on us.
That's certainly what we're doing here in Birmingham.
As I said earlier, this is one of Europe's youngest cities; with almost half of the population aged under 30 and 30 per cent of people are under 20.
And, while that presents us with many challenges, just think about all the possibilities – the enormous potential of our young people.
This city is a conveyor belt of talent and our task as a city council is to work with partners – from the Government and the business sector through to community organisations – so we can create the right environment for our young people to shine.
So, how do we harness that huge potential?
How do we convince the next generation that Birmingham is a place where they can develop and thrive; where talent is nurtured and young people are given every opportunity to succeed?
We do what councils have always done and what councils throughout the UK are doing every day – in spite of austerity.
We build the houses needed by a growing population.
We work with business to attract the investment that will create the jobs and opportunities that our young people deserve.
We work with our schools, colleges and universities to ensure that young people are being equipped with the skills needed to take advantage of those opportunities.
And we provide the platform to showcase the talent, creativity and energy of the next generation.
To give you an example, I'd like to close by showing you how the young people of this city showcased their talents to a global audience of over 1 billion people earlier this year.
As I hope you're all aware, Birmingham is preparing to host the Commonwealth Games in 2022 and in April, after Australia's Gold Coast hosted the 21st edition of the Games, they passed the Commonwealth Games flag onto this city.
That put Birmingham firmly in the spotlight as the talented young people you're about to see were given a chance to show what this city has to offer and fantastically rose to the challenge.
They made the city proud and reminded me that, despite the challenges and the pressures, working in local government continues to be a rewarding and worthwhile experience.
We're here to work for and with our citizens, so let me show you how Birmingham did just that.
In 2022 we would like to invite people from across the world to our city to see the Games and you will all be very, very welcome.
In the meantime, have a great conference. Thank you and enjoy the city.
The campaign to convince Channel 4 (C4) to choose the West Midlands for its new national HQ reached fever pitch today (Wednesday 27/6) with the formal presentation to the broadcaster.
The West Midlands pitch team was a mixture of political leaders and industry experts, who worked as one to highlight the multiple reasons and benefits that make the region such an attractive proposition to the broadcaster.
The formal pitch was part of C4's tour across the nation as it visits the shortlisted cities to assess the viability of each bid. The delegation from C4 included: Alex Mahon, chief executive; Jonathan Allan, chief commercial officer; Sophie Jones, head of corporate relations; Kathryn Barry, HR business partner; Gill Wilson, consultant/former head of features; Will Fox, project manager – Nations and Regions.
As part of the pitch, the West Midlands assembled a cast of creative talent, which included: Adil Ray (writer/actor/director); Steven Knight (screenwriter/film director); Debbie Isitt, creator of film franchise Nativity; and local poet Casey Bailey.
The formal bid from West Midlands Combined Authority (WMCA) featured: Andy Street, Mayor of the West Midlands; Dawn Baxendale, Chief Executive, Birmingham City Council; and Martin Reeves, Chief Executive, Coventry City Council. The leaders of Birmingham and Coventry City Councils were also on hand to lend their support to the bid.
Cllr Ian Ward, leader of Birmingham City Council, said: "A wealth of knowledge and creativity, combined with one of the youngest and most diverse populations in Europe, make Birmingham a perfect fit for Channel 4.
"There's never been a better time to come to the West Midlands. Our thriving region is undergoing an exciting cultural renaissance and we have the digital skills, talent and energy needed to make the move a huge success."
Cllr George Duggins, Leader of Coventry City Council, said: "We were delighted to meet the Channel 4 team and show them what a great site the West Midlands would be for a new headquarters.
"We believe we are the perfect choice, with our central position, first class transport links and strong cultural scene, and we put across a very strong case for why they should join us and be part of our exciting future.
"Coventry won the title of UK City of Culture 2021 by working with partners and other organisations to show the potential of our young, skilled and diverse population and how our city is growing and changing for the future.
"Those same strengths make us the perfect choice for Channel 4 and I believe that we put across a very strong argument and showed them how relocating to the region would not just help the West Midlands, but help Channel 4 and create something special for both of us."
The Mayor of the West Midlands Andy Street said: "The prize of Channel 4's National HQ is a huge one for the region. Today we brought together everybody who has been working with us from the political and industry to really press the case to the leadership team at Channel 4.
"Because our region has put the hard work into this over the last few years and because everybody has got right behind this bid, we have honed our case, gathered support and have every right to feel confident."
The WMCA bid highlights the many strengths of the West Midlands under the strapline of 'Get Closer', including: the region's unparalleled connectedness to talent, ideas and resources, its youth and diversity, and the ongoing success and development the region is experiencing such as Coventry named UK City of Culture 2021, and the Commonwealth Games in 2022.
C4 is seeking to establish three new creative hubs outside London, as part of its '4 All the UK' strategy. The largest of these hubs will become the national headquarters, consisting of offices, a new studio, a base for daily programmes and a new digital production unit. The final announcement will be in October, with the broadcaster moving to the new HQ in 2019.
My speech at the launch of the Birmingham Homelessness Prevention Strategy
Download the strategy here: https://www.birmingham.gov.uk/download/downloads/id/2531/birmingham_homelessness_prevention_strategy_2017.pdf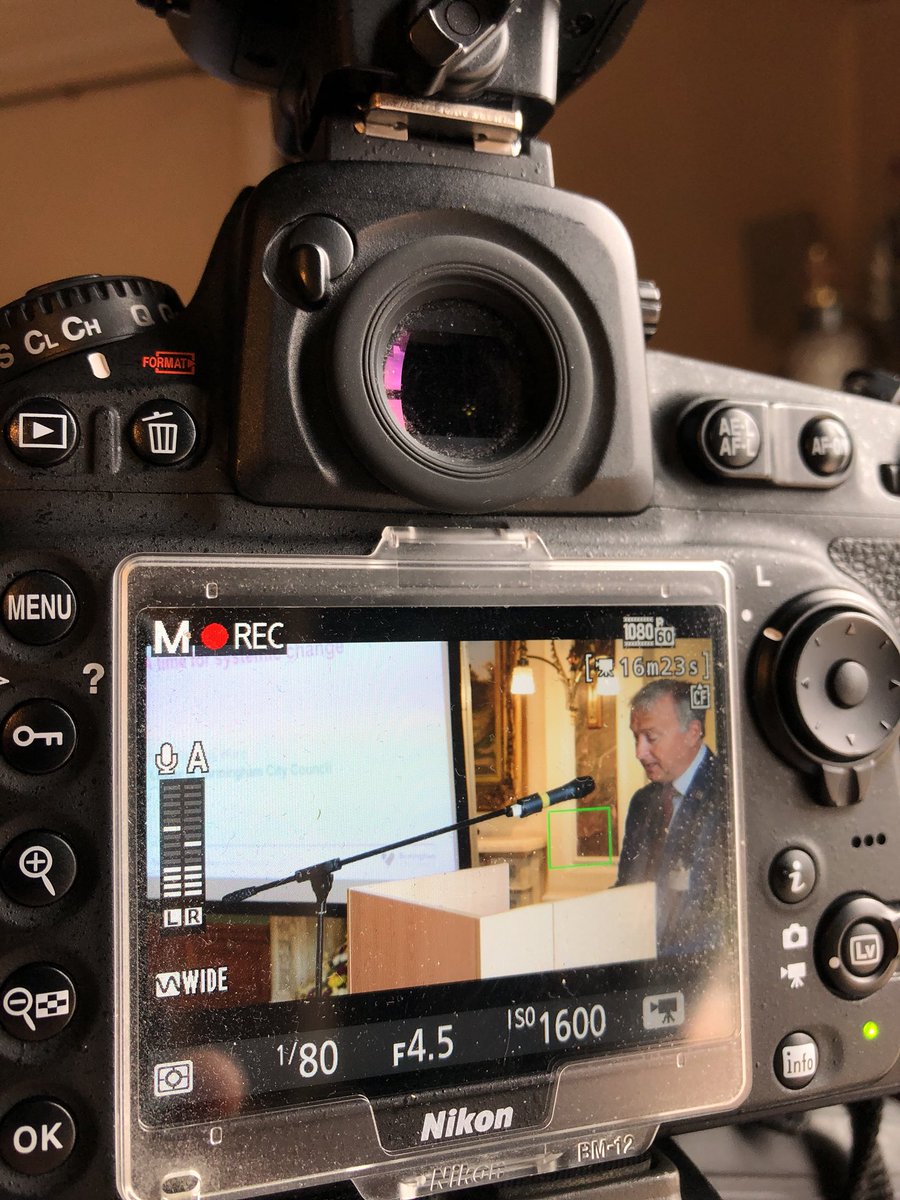 Good morning ladies and gentlemen and thank you for joining us here for the launch of the Birmingham Homelessness Prevention Strategy.
You can tell a lot about a city from the way it unites to protect its most vulnerable.
So we can take great pride in the fact that so many partners are coming together to tackle and prevent homelessness.
It's doesn't surprise me that Birmingham continues to be a city that helps those in need. Compassion is in our collective DNA. This is a city that stands up for victims; a city that unites to counter injustice and inequality.
And, while compassion and good intentions will only get us so far, what is clear from this strategy is that together we also have the vision, the skills and the sheer determination to tackle an issue that has disastrous consequences for far too many Birmingham citizens.
And I'm not just talking about the very visible rough sleeping crisis.
The sad truth is that Birmingham also has a high number of families who are homeless or in temporary accommodation. And, as we've seen in other UK towns and cities, those figures have risen dramatically over the last eight years.
Behind that rise we find far too many individual tales of heartbreak and hardship, we find far too many children living in temporary accommodation often badly affecting their education and we find far too many lives irrevocably damaged.
We cannot and will not sit back as a city and allow that to continue.
Homelessness ruins lives and this strategy acknowledges that we need to do more to recognise the impact that the trauma of homelessness can have on physical and mental health of both adults and children.
Homeless households experience severe health inequalities, and a lower life expectancy than the general population.
Shockingly we know that the impact begins at birth, with homeless children more likely to be born at a low birth weight and miss their immunisations.
Homeless children are three times more likely to experience poor mental health; the impact of which is long lasting.
And even after they have a new home, children who experience homelessness remain vulnerable to family breakdown, domestic abuse, mental ill health, and learning and development difficulties.
At whatever stage in life you are at, homelessness destroys potential.
Which is why the key to this strategy is that vital word: PREVENTION.
Our new focus is on preventing people from becoming homeless in the first place and supporting those who are homeless to build a more positive future in good health, sustainable accommodation and long lasting employment.
To succeed, we must help people secure homes that they can afford and maintain, which is why in the recent local elections we promised to build more affordable homes and homes for social rent.
Saying it is the easy part but we must not underestimate the scale of the challenge.
With the population predicted to rise by 150,000 by 2031, Birmingham needs 89,000 new homes to meet the needs of the city's population over the next 13 years.
I promise that Birmingham City Council will play its part. Since 2012, we've built more affordable homes than any other council in the country and we will continue to build much needed affordable homes through Birmingham Municipal Housing Trust.
But, as the strategy we're launching today makes clear, we need a range of safe, decent, affordable housing options, both shared and self-contained, in the private, social and third sectors.
We all have a part to play and, though this is a huge challenge, I firmly believe we can work together to drive the systemic change required to deliver this strategy and achieve our collective vision for Birmingham.
Last week we launched our Domestic Abuse Prevention Strategy – an issue often closely linked to homelessness – and I said then that we must ask ourselves what sort of a city we want to live in.
What sort of Birmingham do we want our young people to grow up in?
And, what value do we place on respecting and protecting the most vulnerable in our city?
Those questions are equally applicable as we address the issue of homelessness.
If we look around Birmingham in 2018, this is a city undergoing a dramatic and exciting transformation.
The cranes on our skyline, the building sites and the sheer scale of new developments mean that this is a city on the up.
Our challenge now is to ensure that everyone gets an opportunity to share in that success.
And, at the very least, we should strive to be a city where everyone has a roof over their head and place to call home.
That's why I'm delighted that so many of the City's partners and stakeholders have come together to deliver the strategy we're launching today.
Let's make it happen.