Monthly Archives:
December 2016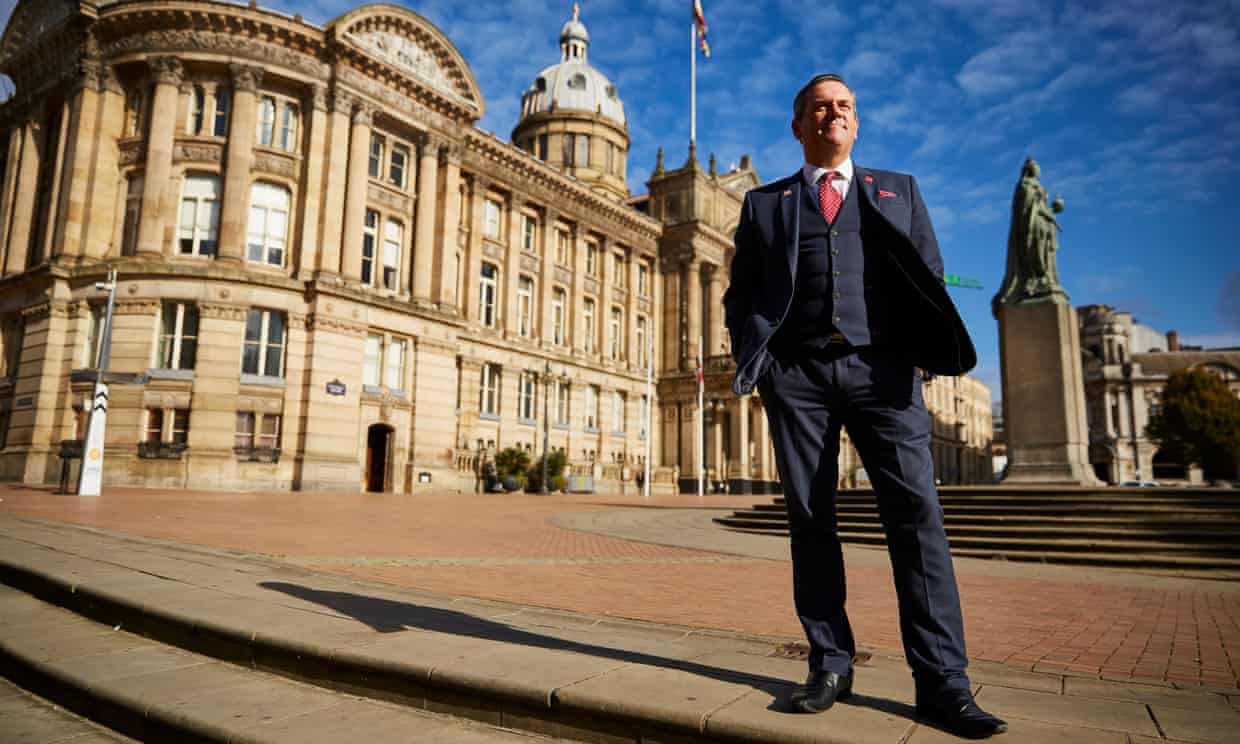 As we move into 2017 I want to reflect on a Birmingham of two very different halves.
On the plus side the city economy continues to grow rapidly, creating wealth and jobs.
In 2016, Birmingham recorded the highest rate of business growth of any UK city; double the national average, and higher than London, Manchester and Liverpool.
There are now more businesses in Birmingham than any other city outside the capital. With 9,151 new companies created in the first six months of 2016, Birmingham is set to retain its position as Britain's number one regional city for start-up creation for the fourth consecutive year.
On top of that, we're the most entrepreneurial city in Britain and can look forward with optimism to the arrival of the HS2 high speed rail service, now clearly on the horizon, which will deliver a game-changing economic boost not just to Birmingham but across the West Midlands.
This city has not permitted itself to be thrown off course by the decision to leave the EU.
The precise implications of Brexit are unclear but it is obvious that Birmingham must redouble efforts to attract trade and investment from across the world. To this end I was delighted to sign a £2 billion agreement with Chinese property development company Country Garden which will deliver thousands of the new homes and jobs our citizens need.
As it has done throughout history, pragmatic Birmingham is reinventing itself to reflect changing circumstances. The huge city centre Paradise scheme is taking shape and plans are in place for Smithfield, with a value of £500 million which is one of the largest urban development opportunities in the country. Smithfield alone will deliver 2,000 homes, and 3,000 jobs.
My pledge a year ago is still strong: we must be a city that shines regionally, nationally and internationally and to do that, we must attract jobs, we must create jobs and we must give people across the city new opportunities, and all of this has to be underpinned by inclusive economic growth reaching out to every part of Birmingham.
But for all of the reasons to be optimistic about the future – and there are many – a new year analysis would be incomplete without reflecting on the damaging impact of six years of Government-imposed spending cuts.
The figures are extraordinary and unprecedented. Birmingham city council has taken about £600 million out of its budget since 2010, when the Government's austerity programme began. We anticipate reducing spending by a further £200 million by 2020. In a single decade the amount of money the council has to spend on public services, and the workforce family required to deliver those services, will have been slashed by more than half.
A financial and personnel squeeze at such draconian levels cannot be without consequences.
Here is a chilling statistic: in 2010-11 the council spent £346 million on adult social care. Add on six years' of inflation, and it would be necessary to spend £420 million now just to keep pace. In fact, the council will spend just £245 million on social care for adults this year – a budget cut of almost a half when the demand for and cost of looking after older Brummies is growing dramatically.
Whatever the merits of Government policy in 2010, one thing has become clear: eight years after the global financial crash of 2008, austerity simply isn't working. In fact, local government is being slowly strangled to death.
No other area of Whitehall has been subject to the same squeeze. Since the start of the decade spending by UK local authorities has fallen by 37 per cent, and is scheduled to fall much further over the next five years. The Local Government Association predicts that councils will face £9.9 billion of unfunded costs by 2019-20, and it is likely that some local authorities may simply go bust if the austerity squeeze continues.
In Birmingham, the home of Joseph Chamberlain, whose vision of councils making a real difference to the lives of citizens set the local government agenda for 150 years, we will seek to find new ways of working wherever possible, although it has to be understood that the city council is now unable to deliver all of the services that Brummies once took for granted.
In 1884, Dr Robert William Dale, the great Birmingham theologian and colleague of Chamberlain, issued a clarion call on behalf of local government: "Councils can do very much to improve … miserable homes … They can give to the poor the enjoyment of pleasant parks and gardens, and the intellectual cultivation and refinement of public libraries and galleries of art. They can redress in many ways the inequalities of human conditions."
Dr Dale's words are as apt today as they were in the 19th century. My message to the Government is: give us the tools, and we will get on with the job.
This blog first appeared in the Birmingham Post (29 December 2016)
Birmingham's hotels posted an average occupancy rate of 81% in October 2016 – with the Conservative Party Conference, the Great Birmingham Run, Grand Designs Live and three Justin Bieber concerts helping the sector to achieve its highest October figures on record.
The figures, released by Marketing Birmingham's Regional Observatory in collaboration with travel research company STR Global, are 0.6% higher than the previous best October (80.8%), achieved in 2015. Birmingham's October 2016 occupancy rates (81.4%) also showed a 0.5% increase compared with the UK average (80.9%).
Birmingham's busiest night during the month was on Tuesday 18 October, when more than 97% of the city's hotel rooms were filled thanks in part to the second of three concerts by Canadian pop star Justin Bieber and the start of the Grand Designs Live exhibition at the NEC. Occupancy rates hit 96% on the evening of Monday 3 October – the second day of the Conservative Party Conference at the International Convention Centre (ICC) Birmingham – and also on the eve of the Great Birmingham Run on Saturday 15 October. The event saw 20,000 people take part in the 13.1-mile race, with the city set to host its first marathon for more than 30 years in 2017.
Revenue per available room (RevPAR) – the performance metric used to evaluate a hotel's performance, calculated by dividing the total room revenue for a particular period by the average number of rooms available in the same period – also rose to £62. This was the highest figure in Birmingham since May 2010.
Cllr John Clancy, Leader of Birmingham City Council, said: "Birmingham's hotels are thriving, with the city benefiting from increasing numbers of visitors and welcoming more high-profile events across the political, sporting and cultural spectrum.
"The city's hoteliers saw a 10% rise in occupancy at the start of October as Birmingham successfully hosted its 13th major political conference since 2008, while revenue per available room – the main measure of performance for the hotel industry – has also risen significantly to a six-and-a-half-year high.
"Perceptions of Birmingham as a leading tourism and business destination continue to grow – and with the city proving a firm favourite over the festive period, 2016 is on course to be our accommodation sector's busiest year."
James Elston, Sales Director at ICC Birmingham, added: "October is a very busy month for us as we have many association conferences at the ICC where delegates stay in Birmingham for two to four days. The most notable was the Conservative Party Conference at the beginning of the month when we welcomed over 12,000 delegates and 1,000 international media over four days, along with Heart Rhythm Congress and Royal College of Psychiatrists to name a few.
"We always encourage our delegates to stay a while longer to enjoy everything Birmingham has to offer and the more events we bring to our venue of this nature is brilliant for the local economy. We are extremely proud to help bring visitors to our city."
The local market is currently experiencing significant development activity, with 15 hotels at various stages of planning or construction, including easyHotel (2017), Radisson Blu at Birmingham Airport (2018) and the Grand Hotel (2018). The largest hotel to open in the city in 2016 was Park Regis Birmingham, with 253 rooms and two new restaurants.
Robin Ford, General Manager at Park Regis Birmingham, said: "Park Regis is a new brand to the city which has integrated seamlessly into its blossoming hospitality sector. Since opening in March we've seen strong occupancy and rate growth, testament to Birmingham's thriving events and cultural calendars and also the need for a new, upscale hotel. Occupancy peaked at 99% in October, with events such as the Conservative Party Conference and Great Birmingham Run significantly contributing to our performance in our first year of opening.
"Looking to the future and we're already experiencing high demand for key dates in 2017. Our location and size, with the ICC and Barclaycard Arena on our doorstep, positions us firmly as a destination for both business and leisure travellers."
Today (December 21), the Government has made an announcement confirming its financial support for Birmingham City Council's efforts to prevent homelessness.
Birmingham has secured £1.7 million – details of the announcement, made as part of the Goverment's Homelessness Prevention Trailblazer scheme, can be found here.
Cllr John Clancy, Leader of Birmingham City Council, said: "We are delighted with the news that our application for the homelessness prevention trailblazer opportunity has been successful – it sends out a clear message that Birmingham is a city where we will all work together to eradicate homelessness.
"It is particularly pleasing the government has recognised the ambition of our bid, which will be delivered with a range of partners, helping people accessing our services to get back on their feet.
"Now the funding has been secured, to support existing funding we have previously protected for homelessness, we are looking forward to working with Solihull Council in tackling rough sleepers and youth homelessness through our programme."
Additional info: The partners working on this Birmingham project are: Birmingham City Council, St Basil's, Birmingham and Solihull Women's Aid, Crisis, Shelter, Sifa, Midland Heart, South Birmingham Young Homeless Project, YMCA, CCGs, BSHMHFT, Trident Reach, Salvation Army, West Midlands Fire Service, Housing Justice, West Midlands Police, CGL, CRC, National Probation Service
More information on this is available, courtesy of the Birmingham Mail website, here.