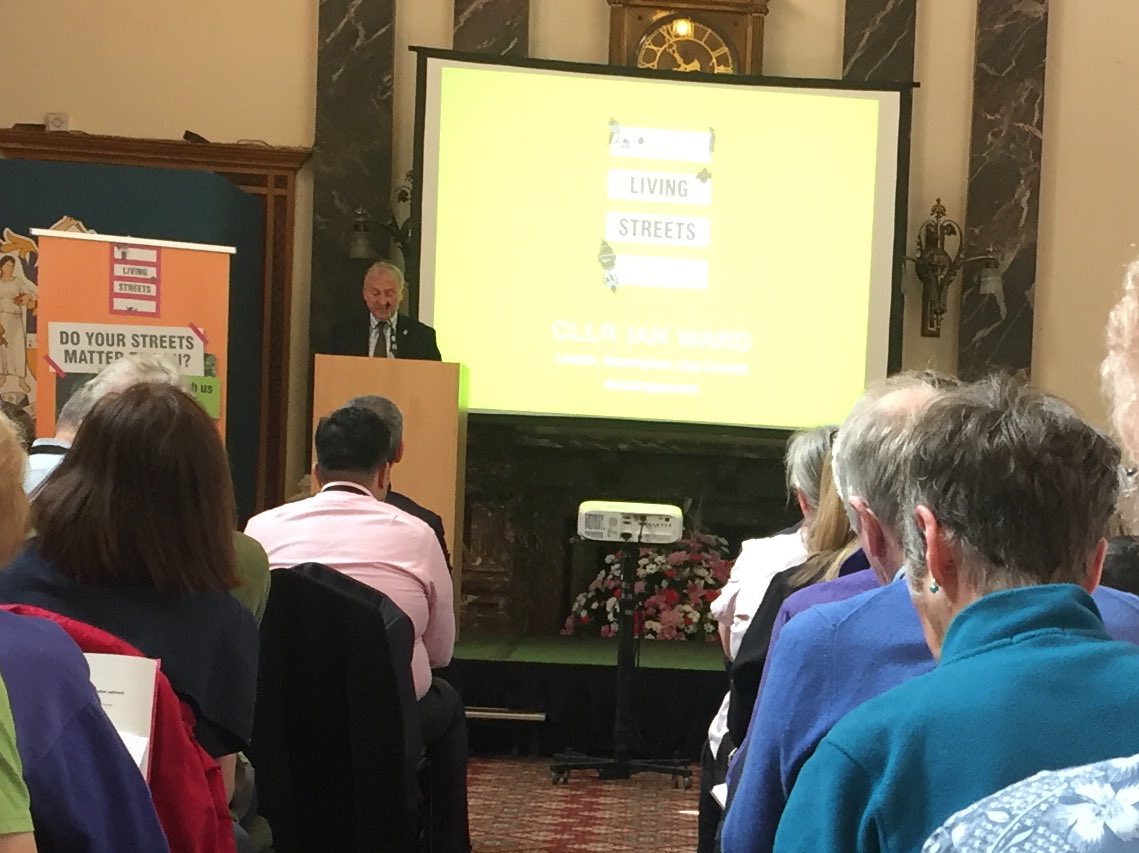 My speech to the National Walking Summit 2019
Good morning ladies and gentlemen. Welcome to Birmingham and thank you for joining us for the 2019 National Walking Summit.
You might at first glance think that Birmingham – for decades known the world over as a motor city – is an odd location for this event.
But we're working hard to change that old perception – not just in this city, but across the whole West Midlands region.
We're working collaboratively to reduce our over-reliance on cars by getting more people onto public transport, more people cycling and of course more people walking.
Clearly I don't have to sell the benefits of walking to this audience, but there are many compelling reasons for doing this.
Air quality across this region is poor.
Congestion is a key concern.
Levels of obesity are rising.
And there is overdependence on cars for short journeys.
As if those factors weren't enough, there is another pressing reason why Birmingham must get more people out of their cars: This is a rapidly growing city.
We'll have 150,000 more residents by 2031 and that means potentially 80,000 more cars on our roads and 200,000 more daily trips.
The increased traffic would have a staggering impact on people across this city and that was one of the major factors four years ago, when we launched Birmingham Connected – an ambitious strategy for delivering a transport network to support the city's expansion.
The case for active travel is a strong one and, though we know the journey will not always be straightforward, we know that increasing the levels of walking and cycling is an essential part of making Birmingham 'well-connected'.
In the 1960 cities were designed for cars, with pedestrians given secondary status and quite literally driven underground onto underpasses.
That is changing and – as our city evolves – we're working with planners to turn the 'car first' philosophy on its head.
And we're not starting from scratch. Birmingham already has a surprisingly varied and extensive network of paths, pavements, towpaths and tracks connecting people with places to live, work and enjoy.
There is considerable scope to improve this network by making it easier, safer and better-connected so that more people will choose to walk and cycle, regardless of age, gender, fitness level or income.
We're currently putting the finishing touches to the Birmingham Walking and Cycling Strategy, which will set out a long-term plan to ensure that active travel becomes the popular choice for short journeys and to increase the opportunities for recreational cycling and walking.
Through this Strategy we must:
Develop a great city for walking and cycling – improving infrastructure: paths, parking and public transport.
And we must promote and inspire walking and cycling – organising events, distributing information and evaluating outcomes.
Success will not be achieved overnight, but by working with partners (locally and nationally) and by engaging with our communities, we have a real opportunity.
Increasing the levels of active travel will deliver huge benefits, for individuals and the wider community – with more inclusive growth; better health and safer travel; cleaner air; improved access to jobs, skills and services and more liveable communities.
Today's summit is another step on a journey that will transform Birmingham from the Motor City into an inviting and walkable 21st Century destination.
You will no doubt have seen the continued coverage of intimidating protests regarding the teaching of Relationships and Sex Education at a small number of Birmingham schools.
You may also have seen reports overnight of attacks on mosques and Islamic centres in Birmingham.
I have to say that the Birmingham being portrayed in the media (mainstream and social) at the moment is not the Birmingham I know.
It amazes me in 2019 that this needs to be written or said, but let me make it clear: There is no place in this city for intolerance and discrimination.
This is a city built on tolerance and I'm proud of the fact that everyone is accepted in Birmingham regardless of race, religion, gender or sexuality.
As a city it is important that we call out discrimination and intolerance in any form and we will continue to do so. As my cabinet colleague John Cotton has said: Equality is the law of the land and a right for all, and people can't pick and choose which parts of the 2010 Equality Act they support.
That's why I condemn the mosque attacks and why next Monday I'll be speaking at an event focussed on challenging hate and Islamophobia.
It's also why I want to make it clear that there is no room in our city for homophobia.
The abuse directed towards staff at Parkfield Community School and more recently Anderton Park Primary School is simply unacceptable. It's also absolutely wrong that the protests – centred on relationships lessons that teach children about LGBT rights – have been hijacked by people with a homophobic agenda who have no links to either school.
It's one thing for parents to ask questions about elements of a school curriculum. It's quite another for others to pounce on the situation as an excuse to peddle hatred and misinformation.
We know that activists from around the country have joined the protests at Parkfield and they are not helping the school and the parents resolve this sensitive issue.
We must be absolutely clear that there is no room in this process for intimidation or abuse and I would urge those using this issue to further their own agendas to back off.
Likewise, the simple message to anyone targeting our Muslim community is that your hatred and intolerance is not welcome in this city.
As we saw with last week's tragic events in Christchurch, Islamophobia is a poison that cannot go unchallenged.
Birmingham is under an intense media spotlight at the moment and we have a duty to stand together, speaking up for all our communities.
That is exactly what we will do and the extremists will not win.
Birmingham City Council has announced Lendlease as its development partner to deliver the transformation of the 17-hectare Birmingham Smithfield site.
Located in the heart of the city centre, Birmingham Smithfield is a £1.5 billion redevelopment project that will reposition the city on an international stage.
Lendlease will form a contractual joint venture with the city council and lead the creation of an urban quarter that includes a new home for the city's historic Bull Ring retail markets, a unique family destination including a leisure and cultural offer, a new public square, integrated public transport and more than 2,000 homes with a public park and community facilities.
The development of Birmingham Smithfield is part of the city's Big City Plan, launched in 2010, which sets out a 25-year vision to grow the city centre by more than 25 per cent. As one of the areas of transformation, Birmingham Smithfield is located directly adjacent to the Bullring and New Street Station; and will be a short walk from the new High Speed 2 City Centre Terminus Station which is set to open in 2026.
Councillor Ian Ward, Leader of Birmingham City Council said: "We are extremely excited to be working with Lendlease who are an internationally leading developer with a proven track record of bringing forward major development schemes. The delivery of Birmingham Smithfield will be a major boost for Birmingham. With the new cultural and leisure attractions, the public realm, new homes and retail markets the development will appeal to both national and international audiences. Alongside these fantastic new facilities, the development will also deliver substantial benefits for the people of Birmingham. Lendlease have committed to invest in the local community and create 1,000s of new jobs and training opportunities. This scheme will create a legacy for the citizens of Birmingham and become an exemplar for inclusive economic growth."
Welcoming the appointment, the Rt Hon Liam Fox MP, Secretary of State for Department of International Trade, said: "I'm delighted to welcome this significant investment into Birmingham which will bring jobs and prosperity to the city and surrounding areas, also creating substantial opportunities for the local supply chain. It demonstrates the significant potential of the Midlands Engine region at a time when overseas investment into the UK is at its highest level ever.
"The Department for International Trade is committed to encouraging investment into the whole of the UK, and I'm pleased that teams from across my department – in the UK and internationally – were able to support this major project."
Waheed Nazir, Corporate Director for Economy, Birmingham City Council, said: "Birmingham Smithfield is the city's most important redevelopment opportunity. The site is the location where Birmingham first developed and where its future will now be defined. The calibre of bidders that have been attracted through the procurement process has shown the strength of the city as a place to invest. Lendlease has the capabilities and resources to realise the city's vision and deliver a truly transformational development scheme. Working with Lendlease we will be creating a new family leisure destination complemented by an exciting mix of cultural facilities, independent retail and business space. This will create a major attractor for residents and visitors. The scheme will have an emphasis on green infrastructure alongside community facilities and affordable housing."
Lendlease, a leading international property and infrastructure development company, has been selected following an OJEU Competitive Dialogue Procurement process. Lendlease has delivered major developments across the UK including the iconic Bluewater shopping centre in Kent, the 2012 Athletes' Village and is continuing work on International Quarter London, a major commercial scheme in Stratford.
Dan Labbad, CEO, Lendlease, Europe, said: "Smithfield is the birthplace of Birmingham, known for its markets which have always been at the heart of the city. Much like Birmingham itself, the area is brimming with creativity and opportunity. Our plans for the redevelopment will respect this heritage and bring more jobs, homes and environmental benefits to the area and the people of Birmingham."
Lendlease is also working on the over station development of Euston, south London's Elephant Park and was recently selected as the preferred contractor for Birmingham's Perry Barr development, due for completion in 2022. It will now use its wealth of experience to bring to life plans for the growth of the city centre – creating more opportunities for local people and businesses and increasing economic growth for Birmingham and the wider West Midlands region.
The redevelopment of the area, which is twice the size of Brindleyplace, is expected to take 15 years to complete. The first phase of the scheme will include new homes, the new retail markets building and public realm.
The city council will now work with Lendlease to finalise the terms of the partnership, commence the preparation of a planning application and produce a business plan for the site's redevelopment before the formal award of the Birmingham Smithfield Development Partner contract. This is anticipated to happen by late 2019 with development expected to commence in 2022.
The site is part of the Birmingham City Centre Enterprise Zone, which was established in 2011 to unlock key city centre development sites and accelerate growth.
Tim Pile, Chair of the Greater Birmingham and Solihull Local Enterprise Partnership (GBSLEP), said: "As one of our largest Enterprise Zone sites, Birmingham Smithfield will play a crucial role in generating economic growth and job creation for the city and its surrounding areas. The scheme is set to become a unique destination that will attract more visitors, new businesses and investment here. Birmingham City Council's announcement of its preferred partner is a key milestone in realising the ambitious vision for Birmingham Smithfield. With Enterprise Zone designation, we are also able to secure funding to improve local infrastructure, which will help to accelerate the delivery of this site."