As the British Transplant Games drew to a close on Sunday, Birmingham was named Transplant Sport's first ever Donor City. The award (in association with the Daily Mirror) recognises the city's commitment to increasing the number of Birmingham citizens signed-up to the Organ Donor Register.
Council leader Ian Ward explains why he has registered to be a donor and urges other Birmingham citizens to do the same.
When I was asked earlier this year how hosting the British Transplant Games might be used to improve donor registration rates in the city, I suggested that Birmingham might become a Donor City.
And I'm delighted that – what seemed to me at the time to be a simple suggestion – has now brought together colleagues and partners from the NHS, Public Health and Birmingham City Council.
Now, our challenge is to use this award as a springboard to increasing awareness of the need for more donors and ultimately to bringing about a step-change in donor registration in Birmingham.
Our ambition is to make Birmingham the highest organ donor city in the UK; and the sad fact is that there is plenty of room for improvement.
According to NHS statistics released earlier this year, people in the West Midlands are the least likely in the country to have signed up to the organ donor register. In fact, fewer than one in four people in the region have signed up and in Birmingham the figure falls to just 21 per cent – sadly we are the second ranked of all core cities.
Those figures are not good enough, and sadly the picture gets even worse when you look at our BAME communities, which is why this project will have a particular focus on encouraging citizens from BAME communities (around 40 per cent of our population) to register.
Birmingham is an incredibly diverse city, home to people who can trace their roots back to virtually every country in the world – but if you are black, Asian or from another minority ethnicity, you have a significantly lower chance of receiving an organ than white patents.
Wolverhampton MP Eleanor Smith, who led a review into the situation entitled 'Ending the Silent Crisis', summed-up the problem when she recently wrote: "If members of the BAME communities don't make donations of blood, organs and stem cells, then people will die! This is a very real health crisis. Demand is high – disproportionally high. And supply is extremely low."
To address the shortfall, we must establish donation as a normal act. People in every community must feel able to talk about donation, illness and death. These are not easy topics and I understand why people shy away from them.
But organ donation saves lives and is the only hope for many desperately ill people in this city and elsewhere. There are people across the city who are alive today thanks to organ donation. They are alive because grieving relatives – in their darkest moments – selflessly agreed to help families also facing the prospect of losing a loved one.
The selfless actions of those courageous families should not be underestimated. They are true heroes.
If Birmingham lives up to the title of Donor City we will be a city of heroes and we will deliver a legacy that will improve the lives of many people on organ donor waiting lists.
Earlier this week we learned that a new opt-out system for organ donation could be in place by 2020, which is potentially very good news. But we still have a challenge on our hands to make organ donation to default option for people in Birmingham.
So this will be a campaign for hearts and minds. We need to get to a place, where donors are admired and respected, and their altruism recognised.
And success – as is nearly always the case – will require a team effort.
I've signed up to the Organ Donor Register and I will encourage my fellow citizens to do the same, starting with my colleagues on the city council.
If enough of us step up, in every neighbourhood and every community across the city, then we will truly merit the title of Donor City.
To register to donate, go to: https://www.organdonation.nhs.uk/register-to-donate/
For more information about donation go to: https://www.organdonation.nhs.uk/about-donation/
One step closer to the @Channel4 prize – thanks to the skills, talent and energy in this city https://t.co/cG9OfWWC3e pic.twitter.com/HRpf54xajE

— LeaderofBirmingham (@BrumLeader) July 23, 2018
https://platform.twitter.com/widgets.js
Channel 4 (C4) has announced today (Monday 23/7) that the West Midlands has made the final stage of the pitch process to host its new national HQ.
The broadcaster has selected Birmingham along with Greater Manchester & Leeds as the three final locations for its new home, as it looks to expand its presence outside of the capital.
The headquarters will consist of a new studio, a base for daily programmes, a new digital production unit and offices, creating hundreds of jobs across all areas of C4's business, and enhancing the region's reputation as place for creative companies to grow.
The West Midlands will also be in the running to host one of C4's new regional, creative hubs, should its bid for the national HQ, be unsuccessful. The other cities shortlisted as potential creative hub locations are: Bristol, Cardiff and Glasgow.
The next stage of the process will involve C4 working with the West Midlands' campaign team for a more in-depth assessment of the commercial aspects of the bid and to look at specific locations for the broadcaster's new home.
Cllr Ian Ward, leader of Birmingham City Council, said: "It's great news that Birmingham has been shortlisted. We're a perfect fit for Channel 4, with a wealth of knowledge and creativity, combined with one of the youngest and most diverse populations in Europe.
"We have the digital skills, the talent and the energy needed to make the move a major success and Channel 4 has a huge opportunity to tap into a city and a region of huge potential."
Councillor George Duggins, Leader of Coventry City Council, said: "We are naturally disappointed at today's announcement.
"What does not change is that our city offers excellent transport links, a young, diverse population and a reputation for design and innovation which makes us an attractive option for potential investors along with our central location that means we are within two hours of 40 million people.
"Although we believed Coventry was the perfect choice, if it wasn't to be us, the next best result is for Channel 4 to select a location in the vicinity. Therefore, it is good to see Birmingham is still in the running to host Channel 4 and we wish them well in their endeavours.
"But the future for Coventry is very bright and we continue to look forward to our Year of Wellbeing in 2019, our European City of Sport status next year and of course being UK City of Culture in 2021 as well as being named home of the UK Battery Industrialisation Centre."
The Mayor of the West Midlands Andy Street said: "Channel 4 has today confirmed Birmingham is on the final shortlist to be the broadcaster's new national HQ. Clearly, this is excellent news and I would like to thank everybody who has worked with us on the bid.
"As a region, we encouraged and supported a bid by both Birmingham and Coventry, so it is disappointing that the latter has not made the shortlist. Everyone in Coventry should be proud of the confidence and energy of their efforts.
"Now, it is important the whole region gets behind the Birmingham bid. If we are successful in attracting the HQ, the benefits will be felt across the West Midlands.
"The West Midlands is the natural choice for Channel 4. Our unrivalled connectivity, the diverse and young nature of our population and the strength of our creative and digital economy mean we have a really compelling case for Birmingham.
"Now we up our game and find another gear as we continue discussions with the broadcaster ahead of the final decision."
The campaign to convince C4 to move to the West Midlands saw a cast of creative talent, including: Adil Ray (writer/actor/director); Steven Knight (screenwriter/film director); Debbie Isitt, creator of film franchise Nativity; and local poet Casey Bailey, highlight the strength of talent that exists across the region at the end of June to a delegation from C4, which included chief executive Alex Mahon.
The WMCA bid highlights the many strengths of the West Midlands under the strapline of 'Get Closer', including: the region's unparalleled connectedness to talent, ideas and resources, its youth and diversity, and the ongoing success and development the region is experiencing such as Coventry named UK City of Culture 2021, and the Commonwealth Games in 2022.
C4 is seeking to establish its new national HQ and creative hubs outside London, as part of its '4 All the UK' strategy. The final announcement will be in October, with the broadcaster moving to the new HQ in 2019.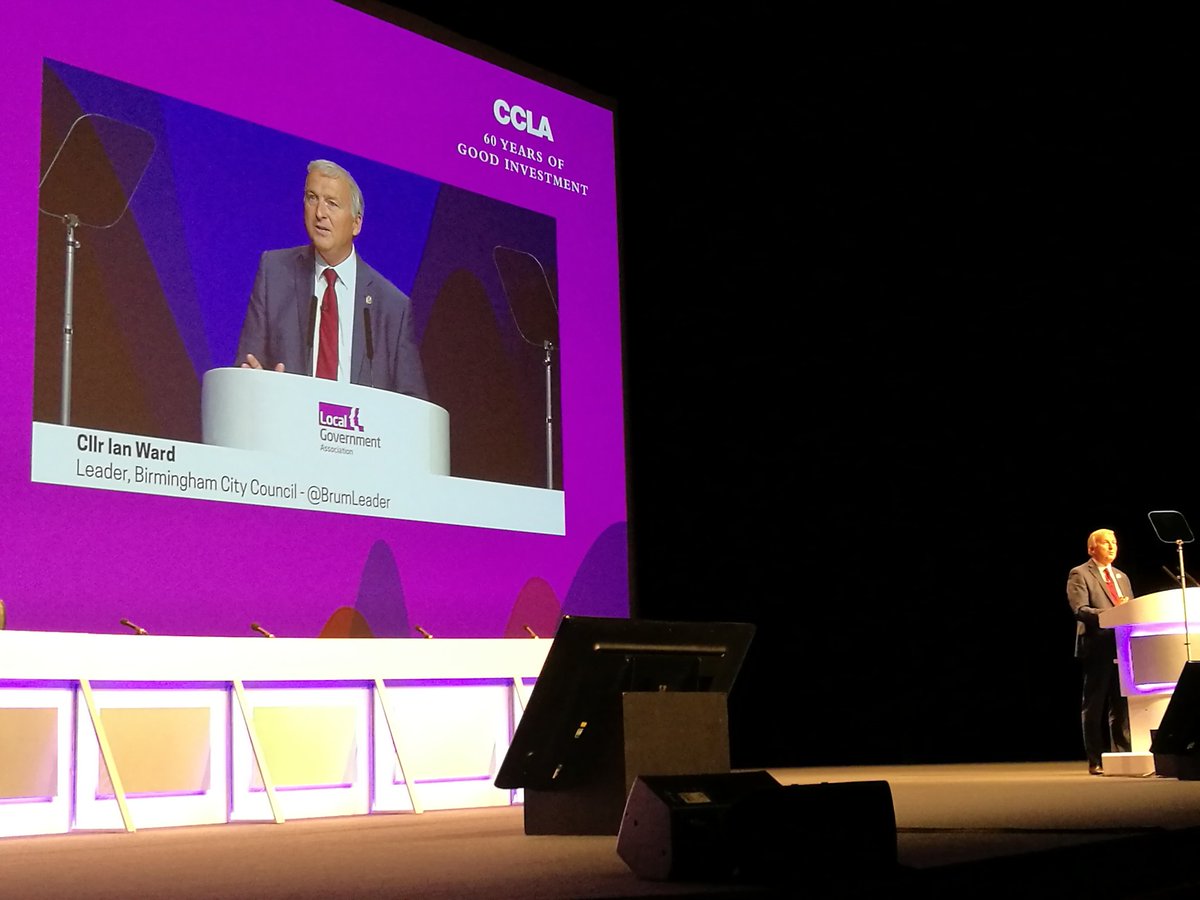 My speech welcoming the 2018 LGA Conference to Birmingham.
May I offer you, the Secretary of State and all our delegates a formal welcome to Birmingham – one of Europe's youngest cities and, of course, home to the UK's largest local authority.
I hope the next few days in our city prove to be enjoyable, enlightening and fruitful as many of the leading figures in local government come together to inspire and be inspired.
You come to Birmingham at an exciting time – we've even given you Blue Skies… but more of that later.
This young, diverse, creative city is going through a dramatic period of transformation at the moment.
In fact you could argue that we've entered a golden decade that will define Birmingham and the wider region for generations to come.
We're building homes, attracting investment, creating jobs, building the infrastructure for HS2 and preparing to host the 2022 Commonwealth Games.
Birmingham is a city that is buzzing with the noise of regeneration and we have many reasons for optimism.
But of course like every town, city and county represented here this week, we have our challenges.
And sadly, at a time of continued cuts, those challenges are what get most of the attention, as the coverage of local government focusses on what we are no longer able to do.
The cuts and the bad news get the headlines, while the good work goes largely ignored.
This is not a glamourous sector, but councils up and down the country are providing essential support and services.
We're the safety net; the very frontline of the welfare state and we're currently needed more than ever before by the millions of people we serve.
Local government might not tug at the heartstrings like the NHS, the police or the fire service, but we are no less important.
And one thing that everyone in this room knows is that local government matters.
Of course, the to-do list for councils across the country is a daunting one, but I know that there are dedicated teams of committed professionals from councils up and down the country that are rising to the challenge on a daily basis.
Local government is blessed with creative, resourceful and tireless officers and councillors who, just like their NHS counterparts, are there to support people from the cradle to the grave.
Over the last eight years, we have continued to deliver vital services and support in the face of unprecedented cuts – in Birmingham for example our budget has been slashed by over £650 million a year as a result of Government grant cuts and rising costs.
That same period has seen demand for many of our services grow. The housing crisis, bridging the skills gap, ever-rising demands for adult social care and preparing for a post-Brexit economy are just a few of the challenges faced by our sector.
The Secretary of State will hear a lot about those challenges at this conference, but he will also hear, and hopefully acknowledge, how this sector is getting on with the job and working harder than ever to improve outcomes for the people who rely on us.
That's certainly what we're doing here in Birmingham.
As I said earlier, this is one of Europe's youngest cities; with almost half of the population aged under 30 and 30 per cent of people are under 20.
And, while that presents us with many challenges, just think about all the possibilities – the enormous potential of our young people.
This city is a conveyor belt of talent and our task as a city council is to work with partners – from the Government and the business sector through to community organisations – so we can create the right environment for our young people to shine.
So, how do we harness that huge potential?
How do we convince the next generation that Birmingham is a place where they can develop and thrive; where talent is nurtured and young people are given every opportunity to succeed?
We do what councils have always done and what councils throughout the UK are doing every day – in spite of austerity.
We build the houses needed by a growing population.
We work with business to attract the investment that will create the jobs and opportunities that our young people deserve.
We work with our schools, colleges and universities to ensure that young people are being equipped with the skills needed to take advantage of those opportunities.
And we provide the platform to showcase the talent, creativity and energy of the next generation.
To give you an example, I'd like to close by showing you how the young people of this city showcased their talents to a global audience of over 1 billion people earlier this year.
As I hope you're all aware, Birmingham is preparing to host the Commonwealth Games in 2022 and in April, after Australia's Gold Coast hosted the 21st edition of the Games, they passed the Commonwealth Games flag onto this city.
That put Birmingham firmly in the spotlight as the talented young people you're about to see were given a chance to show what this city has to offer and fantastically rose to the challenge.
They made the city proud and reminded me that, despite the challenges and the pressures, working in local government continues to be a rewarding and worthwhile experience.
We're here to work for and with our citizens, so let me show you how Birmingham did just that.
In 2022 we would like to invite people from across the world to our city to see the Games and you will all be very, very welcome.
In the meantime, have a great conference. Thank you and enjoy the city.